Dear Readers,
Now that we have a black President, we live in a post-racial wonderland of peace. Race has been exposed as the biologically non-existent social fabrication that it is, and we can all move on. Nobody is any skin color anymore, really. Obama has vanquished our collective national racism, simply by his ascension to the Oval Office.
Unfortunately, some of us, including me, haven't made the leap into a post-racial world. Some of us are still left behind, thinking about race and politics and Marshall McLuhan stuff.
Let me cut to the chase. Maybe it's nothing, but I have an interesting observation about the wardrobe choices on a recent episode of the View. You know, the one with Obama on it.
Look at this picture. Look closely at what everyone is wearing. Notice anything weird?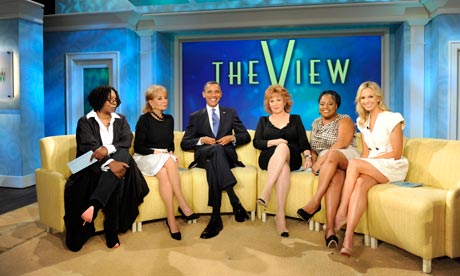 They're all wearing black and white outfits! That's highly unusual. Now compare the curiously monochromatic coordination before us to the usual outfits that The View ladies wear. Go ahead. Do a google image search for "The View" and see if you can find a picture of The View ladies all wearing black and white outfits. It doesn't exist! Or if it does exist, I can't find it. (There are a few promotional photos of the cast of The View where they are all wearing black, but I'm talking about what the ladies actually wear when they're doing the show. If nothing else, Whoopi-cushion Goldberg is usually wearing blue jeans.)
Remember, color choices like these don't happen by accident. People who dress politicians and celebrities have agendas. Color choices like these mean something.
So what do they mean? Well, here's my interpretation of how the puppet masters want you to feel, in the form of two equations:
Black = better, likeable.
White = worse, unlikable.
See, Joy Behar is wearing all black because she's got a liberal talk show -The Joy Behar Show- and she supports our black President. Whoopi-cushion Goldberg is also dressed predominantly in black because she's a big liberal Obama supporter. The other two ladies are dressed mostly in black, because they're mostly liberal.
But Elizabeth Hasselbeck, you see, is wearing all white, because the puppet masters are trying to portray her as a backwards Christian conservative white woman who represents the dominant culture/race that oppresses all the minorities! The puppet masters are trying to get you to think, via colorful subliminal messages, that the righteous blacks are multiplying, and gaining power, and finally overcoming the white she-devil! They outnumber her! The black force has got Hasselbeck in their scopes, and they're taking her down!
It's a conspiracy!
Call the President, call your local school board, call everybody, demand to be heard, and let them know that we won't stand for this sort of color-coded trickery any longer!
Choose you this day who you will serve, but as for me and my house, we will smash The View's wardrobe coordinator! Because it's a clear-cut schoice we all have before us. Either you smash The View's wardrobe coordinator, or you fall under Obama's voodoo spell of liberalism.
Oh, the wardrobe coordinator used to be a good girl, alright. Let's call her Samantha.
Samantha grew up in a small town in middle America. Her father was a car salesman. Her mother stayed at home. Samantha got along well enough with her four siblings, but she was a little odd on the playground. She always lost at hopscotch.
Samantha liked drawing, she liked clothes, and she definitely liked rock and roll music. In high school a boy courted her for a few weeks, but she dumped him. He was going to be a farmer, and she needed more time for herself. When she broke the relationship off, she said that she had no feelings for him, absolutely none, and that he just didn't get her. Her Mom and Dad didn't understand her either.
The day after her high school graduation, Samantha boarded a bus bound for New York City. She had only a suitcase and a purse.
Within a month, Samantha was living in a cheap apartment, working as a waitress, taking fashion design classes at an art school, and drinking alcohol. Before long, she was good with people, and she was good with clothes. She would help her girlfriends put together outfits for going to a job interview or going on dates. She would watch TV, and write letters to the television personalities, telling them what their wardrobe choices said about them.
She got a job with a costume designing company that had done a few off-Broadway plays, but she when she found out she would never do anything but sew buttons and zippers on costume prototypes, she quit. After a month of drunkenness, she went back to waiting tables to avoid eviction, did some soul-searching, and found out that what she really wanted to do was decide what people on TV wear.
So she printed herself two hundred business cards, sprayed them with perfume, and handed them out at parties. She got a few odd fashion designing jobs that way, but nothing substantial.
Finally, Samantha found a few influential men in the fashion world to throw herself at, and they put her in touch with the right people. Blah blah blah… now Samantha is picking out clothes for The View ladies. When she's drunk, she cries.
That about brings us up to the other day, when Samantha's artistic vision was superseded by the decisions of the shadowy artists who are cogs in Obama's image-making machine, the Inner Sanctum of Mind-Manipulators!

Smash Samantha!
And smash her puppet-masters!
Long live the Republic!
Sincerely,
Telemoonfa